---
With the roof being a key component of any structure, your choice in roofing materials is of vital importance. As the outermost layer on the roof of a structure, it provides shelter from the elements as well as adding to the over- all aesthetics of the building.
Polycarb Roofing Supplies strives to advise clients and provide them with only top of the range roofing supplies from polycarbonate and fiberglass to a variety of metals and accessories. Polycarb Roofing Supplies has over 40 years experience and are dependable specialists within the roofing industry, expertly trained to deal with all possible roofing requirements.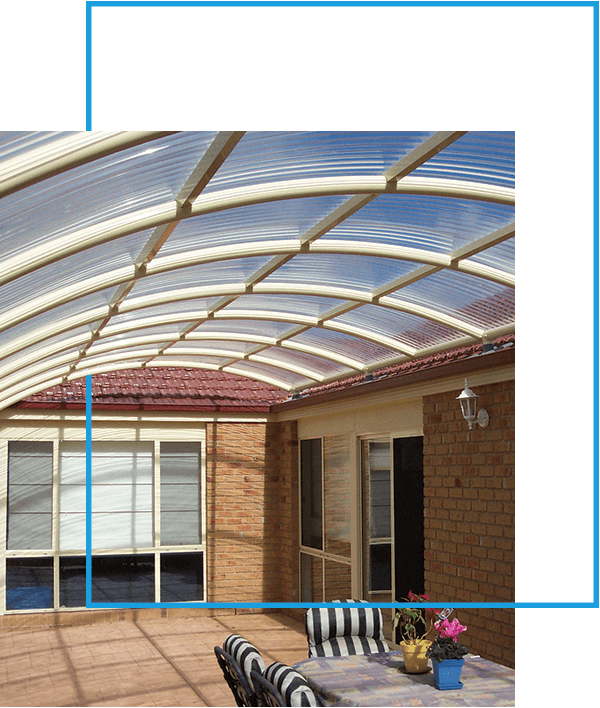 ---
What is
Polycarbonate?
---
Polycarbonate is a versatile lightweight thermoplastic material. It is strong and resilient and capable of withstanding extreme temperatures.
Being highly resistant to impact, transmitting high levels of light, is relatively easy to use, and having a good fire rating, polycarbonate panels are a great product for a wide variety of roofing uses.
Polycarbonate is used widely as a roof light glazing but also makes for an effective roofing material for many outdoor applications such as decks, garages, patios, sheds, and conservatories. Polycarbonate is also regularly used for pool covers, or for roofing on industrial warehouses.
---
What other
roofing materials

do we supply?
Various Metals
Metal roofs are lightweight, fire resistant and durable. They can last up to 100 years and often have 50 year warranties. Because of their longevity, most metal roofs are less expensive than other materials in the long term. Metal roof systems come in a variety of profiles, from the traditional standing seam metal roof panel to die-formed panels that simulate the look of tile, slate or wood shakes/shingles.
Bespoke Outdoor Living Area Supplies
We can assist you with supplies for all of your outdoor living area needs. Whether you want a Pergola or Gazebo, designer screening, lightbox or designer planter boxes, we can design these to suit your lifestyle. All of our products are available in a wide range of finishes and sizes.
Fibreglass Roofing
Fibreglass is cost effective and extremely durable. There are multiple Profile options available, with great flexibility when matching older profiles or repairing older jobs. Fibreglass is typically laid in either one or two layers with a joint-less finish. They can be made in any colour to suit the overall design scheme. Most fibreglass roofs are guaranteed for 25 years but can last much, much longer if well looked after. Other than Industrial Fibreglass, there are also new and exciting products such as Wonderglass and Webglass.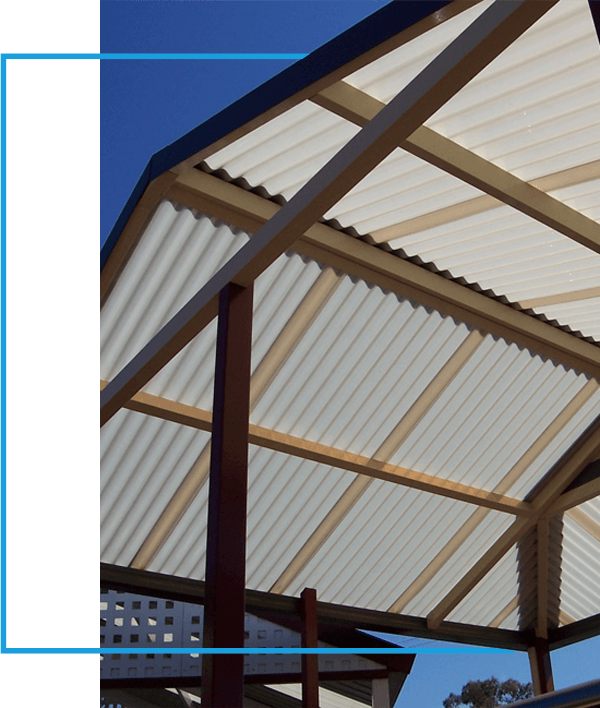 ---
Quality products, seasoned team.
---
With Polycarb Roofing Supplies' vast expertise and dedication to providing service excellence, we will take the time to work with you to understand your vision. Our experienced team takes every detail into consideration.